Apple unveiled its latest head turner, the iPod Nano, at a special event in San Francisco yesterday, reported Yahoo! News!!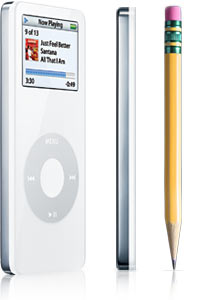 This brand new iPod looks uber cool, with the thickness equalling a #2 size pencil, and weighs just 1.5 ounces!! Ofcourse, it doesn't have a hard-disk, its flash memory based, like the earlier introduced iPod Shuffle. But unlike iPod Shuffle which comes in 512MB & 1GB storage capacities, this iPod Mini replacement comes in 2GB & 4GB flavours, with some cool new accessories!!! Another first in this iPod is its screen lock feature which renders it un-operable to anyone but the owner!! 😉
The new accessories introduced include an arm-band in 5 colours and a set of silicone tubes in 5 colours, which fit the iPod Nano like a glove & even then allowing full wheel control from outside, these tubes just look like the iPod Socks and make up for the loss of coloured iPod Minis which came in different colours, unlike iPod Nano which comes in just white & black colours. This combined with other 1000+ iPod accessories, you can really spice up your iPod.
Hailed by Steve Jobs as the biggest revolution since original iPod, this gadget has a battery charging time of just 3 hours & boasts of a playback time of upto 14 hours!! 😀 And ofcourse, iPod Nano also comes with a colour LCD screen and can also store your photos, much like iPod Photo. The screen resolution is just what you can expect from the Mac maker, stunning!! 😉
But all these good stuff doesn't come cheap!! The new iPod Nano costs $199 & $249 for the 2GB & 4GB flavours, respectively. And the long asked features like an equilizer, FM Tuner etc. have not been added but what comes with this new iPod is the Universal Dock Adaptor which allows the iPod to be connected with almost any device, however, no existing voice recording are compatible with this new iPod. Also, you'll have to transfer your photos via iTunes as no other means of photo transfer is supported, typically Apple!! 😉

Also introduced at the same event was Apple's first venture in the mobile phone industry. Developed with Motorola & Cingular, Jobs also unveiled the iTunes Mobile phone, the Motorola ROKR, featuring the mobile version of iTunes music player.
This new musical phone is the first iTunes phone but certainly not the first mobile phone with MP3 playing capabilities. The real downer is that this phone can store only 100 songs, not much if you consider the storage capabilities of other MP3 player phones, and this phone doesn't even have support for MM or SD cards for extending the storage capacity.
Other features are just the standard ones like Bluetooth connectivity, Camera, video recording & playback, etc.
The only advantage that this phone has over other better phones in my opinion is that this phone can connect to the iTunes on your PC/Mac and have the songs downloaded from the iTunes store transfered to its memory.
And if that's not all, rumours of the Motorola ROKR phone not working properly are already adrift!! 😀