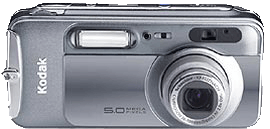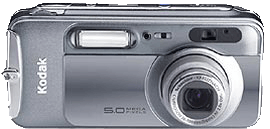 Yay, I finally got my Kodak LS753 delivered to me today noon, which was incidently bought a month ago & which was stuck for 18 days at customs & making my pocket considerably lighter!! 😀
Its a 5 Megapixel camera with 2.8X Optical Zoom and 3.6X Digital Zoom. It has 32MB of internal memory. Here are its detailed specifications.
This is my first digital camera & it surely looks good. 😀 I snapped a few pics and a small video from it & they looked good, and its quite easy to operate, took me just 10 seconds to know what to do & where!! The interface is easy to use, though it took me about 3-4 minutes to realise that the OK button also acts as a joystick to navigate through the menu up-down & left-right, else I was wondering how will I do that!! 😉 I'm pleased & excited!! Its small and fits easily in my palm & is light as well. Damn, I love it. Now I think I'll need to get a memory card for it since 32MB won't be enough for high resolution photos and absolutely not for a video. I think that a 256MB card would be ok, shouldn't cost much either.
So with my digital camera, I think I'll start taking lots of photos!! 😀 I don't have a plan to start a photoblog but then, who knows!! 😉
Woooooooo!!! 😀